Inspiring by nature
The GBLC is a delightful Belgian craft beer of the American Pale Ale (APA) type, generously hoppy with a unique flavor and a floral and fruity nose. Give in to the temptation and be carried away by this singular beer inspired by the "craft beers" tradition that has nothing in common with formatted industrial beers. You will surely not regret it…
"I think I have found a taste for happiness. That's funny, as it tastes exactly like beer!
Specification
The GBLC is a Belgian craft beer brewed with passion in the heart of the Blue Ardennes, the region of high lakes, deep forests, wild rivers and ancient castles.
This beer is produced for "Enjoy Sport" by the Grain d'Orge Brewery (Brasserie Grain d'Orge) situated in Hombourg (Belgium).
Ingredients:
water, malts (barley, spelt, wheat), hops, (Citra – USA, Simcoe – USA & Sorachi – JPN), yeast
EBC : 13
IBU : 18
ABV : 5,2 %
Satisfation : 100%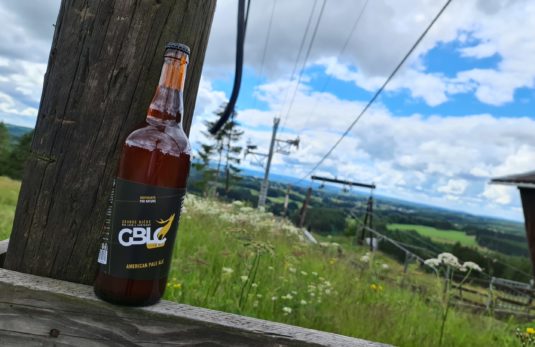 A quick background
In the beginning, there was a running race: the Grand Trail des Lacs et Châteaux (GTLC for our friends). The brave runners would climb through the small paths of the Belgian Ardennes, connecting night and day, lakes and castles and going along wild rivers… After a journey of more than 100 km for the toughest of them, exhausted but happy, they would finally arrive to the finish line.
After such an adventure, they would be a little thirsty …
From there, the organizing team came up with the idea of creating its own beer: the Great Beer of Lakes and Castles (GBLC), which symbolically occurred for the 10th anniversary edition of our event.
We wanted this beer to be brewed in our region favoring the short circuit and our preferences and values.
The recipe was therefore passionately developed by the team, the position managers and the volunteers turning out to become a collaborative work of true enthusiasts and lovers of nature craving for new achievements.
The Great Beer of Lakes and Castles was born! An American Pale Ale, inspiring by nature and largely hoppy, which has since delighted all athletes, and which we can't wait for you to discover.
Où la trouver ?
Haven't had the opportunity to taste the Great Beer of Lakes and Castles yet? Have you enjoyed it and are still a little thirsty? That's good! This inspiring, naturally hoppy American Pale Ale is distributed at all "Enjoy Sport" events.
Join us and let's share the good times together!
Calendar of forthcoming events: